Cioran, Germany, & Hitler
Posted By Gina Puica Vincent Piednoir On

In North American New Right

| Comments Disabled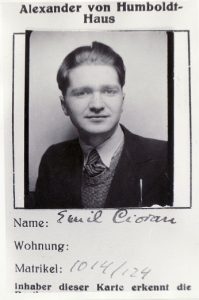 [1]1,761 words
Translated by Guillaume Durocher
Translator's Note: The following are excerpts from the preface to a collection of early articles by Emil Cioran translated from Romanian into French. I found this very interesting concerning the young Cioran's embrace of fascism as embodying the "barbarism" he considered necessary to halt decadence. I have broken up some of the paragraphs. The title is editorial, and the footnotes are my own. Source: Emil Cioran, Apologie de la barbarie: Berlin-Bucharest (1932-1941) (Paris: L'Herne, 2015), pp. 11-19.
Why shouldn't we rejoice when the flames of our will to sacrifice triumph over our sorrows, our illnesses, and our insignificant resignations? Renunciations, yes, but not resignations. He who renounces has too much to give, whereas he who resigns himself cannot even receive. – Emil Cioran, Vremea,[1] [2] January 14, 1934
Long before adopting French as his exclusive means of literary creation, it was first through German that the young Emil Cioran (1911-1995) gradually crossed the cultural boundaries of his country of origin. Born as a subject of the Austro-Hungarian Empire in the region of Transylvania, which was inhabited by many Saxons, he early on became familiar with this language which, from the age of fourteen, opened the doors to poetry and philosophical thought.
Some springs later, when he published his first pieces in the Romanian press, it was easy to feel the presence of German: in truth, it was then Cioran's second language, almost a mother tongue, a language which conveyed an entire mental universe from which the future essayist would soon draw his inspiration, if not his identity. In 1928, shortly after having obtained his high school diploma, he left the city of Sibiu and registered at the Faculty of Letters and Philosophy of Bucharest: the capital, which was nicknamed "the little Paris of the Balkans," was in those days resolutely turned towards France . . .
From this point of view, the cultural baggage of a Mihail Sebastian[2] [3] or a Eugène Ionesco[3] [4] – francophile spirits, if there ever were any! – was much more representative of the young Bucharest intelligentsia of the day than was Cioran's . . . A discrepancy saturated with momentous issues and which has perhaps not been sufficiently emphasized.
Through the selection of articles presented in this volume, we have sought, on the basis of authentic documents, to reconstitute the young Cioran's intellectual journey grappling with his pre-war Germanophilia. By reading them, one perceives better that a certain Germany – Romantic, then vitalist and irrationalist – was, in his eyes, able to be the counterpoint to the irrelevance of a France which to him was obsolete, as well as to the structural deficiencies of his country and the atrophy of a world in which the exercise of the mind is no longer, in short, compatible with Life. This Romanian was already well-versed in the art of the pamphlet and had only the harshest words, for pages on end, to excoriate the West's decline. . . .
It goes without saying that Cioran's stay in the Reich (autumn 1933-autumn 1935) constitutes a particular – and eminently crucial – episode in his biography. Whereas a few months earlier he still displayed a frank contempt for all forms of political engagement ("that immense filth," he said), the philosophy student would nourish himself, as soon he arrived in Berlin, with a genuine passion for the "new Germany" – the effectiveness of the Gleichschaltung, the people's frenzy, and especially the Führer's charisma.
From this period until his definitive move to France (1941), Cioran would constantly ideologize his discourse, fight against pacifism as well as skepticism, and promote the fanaticization of the masses and the resort to violence in order to destroy critical thought – convinced of having discovered in Hitlerism a model dictatorship to be urgently imported into his own country. He also sought – with force, lyricism, and aggressiveness – to put before his compatriots the following choice: a mission or despair; the birth of a history or rotting in time's ash-heap; the transfiguring leap or death . . . He wrote in the February 4, 1934 columns of Vremea:
For my part, Romania remains of interest only insofar as it can succeed in becoming another Romania, insofar as speaking of another Romania is meaningful. Because, for my part, I refuse to patch a torn-up shirt back together, nor do I want to let myself be dissolved in a rot for which I am not responsible. Then, how can we not admire Germany's self-asserting will, ready to fight the entire world, brandishing untenable ideas and unfounded aspirations, which are due to a vitality and a pride whose intensity eliminates caricatural ridiculousness, confronts the absurd, and nourishes itself against many mistakes which our insipid lucidity avoids because of a shameful prudence?
Simply said: there was, with Cioran, a before and an after Germany – a before and after 1933. How could his future rapprochement with the Iron Guard have been possible without his stay in Berlin and then in Munich, without this fateful stay during which he discovered the powerful aspirations of "great politics"? All the more in that there remained abyssal differences between Legionary doctrine and the theorist Cioran's prescriptions (without speaking of those distinguishing Hitlerists from the Guard).
This is shown by his cursed book, The Transfiguration of Romania, published in 1936 . . . In this work, Cioran tries to confront his ideas concerning the philosophy of culture and of history with the concrete case of Romania, in order to establish the foundations for an explicitly nationalist project. If Codreanu's disciples could legitimately appropriate some of his positions (notably on minorities and foreigners, and on the need to liquidate Romanian democracy and replace it with a far-Right dictatorship), it seems likely that many other arguments, consciously critical of the Guard, must have provoked much incomprehension and perplexity among the "Greenshirts": the marked praise of Bolshevism; the pages dedicated to the people's material misery, and the lack of genuine reflection in the national debate on social injustices; the categorical rejection of Orthodoxy and "Romanianism" as identitarian foundations for the country to be born; and the modernist voluntarism which Cioran stubbornly praises – against "tradition," the "village," the figure of the "eternal peasant" – in favor of a massive industrialization of the very rural Romania of that time . . .
This Cioran, in short, has nothing reactionary about him: he abhors the passéisme affecting too many of his compatriots, just as he abhors the limp and prudent consensus of parliamentarism, a political institution which in his eyes is as ineffective as it is corrupt, as incapable of raising Romania's "historic level" as of inspiring the appearance, from within it, of the heroes which it so urgently needs.
And he repeats to excess: in Romania, everything is still to be created, there are no precedents – but one must first make the effort to definitively forget this wonderful past which many local historians claimed existed and which was, in fact, nothing more than a painful fantasy whose harmfulness was manifest. Yes, this Cioran wants to be exclusively turned towards the future. And the future, for him, is Nazi Germany – the perfect cultural and political antithesis to the French spirit, towards which Cioran feels a certain sincere attachment, but which it would ultimately be in vain to still attribute any vitality.
For that matter, one of the great questions raised by this part of Cioran's biography is no doubt the following: How to explain the suddenness with which the young student, put into contact with Hitlerism, let himself be convinced to put his incisive pen and his vast culture in the service not only of liberticidal, but essentially deadly causes? The question is all the more difficult in that we cannot satisfy ourselves with the argument of temporary folly. "I know for certain that I will never go mad," he quite precisely wrote to Bucur Țincu[4] [5] in 1932. And, does one become mad simply by constantly calling for madness in one's literary productions?
A thorny question, then, but on which the chronological reading of the articles which follow can bring valuable insights: an extreme anthropological pessimism; the observation of a generalized decadence in the West inspired by Spenglerian analyses; a rejection of the rationalist tradition stemming from the Enlightenment to the benefit of thought centered on the "soul," the "vital," and the "intuitive"; and the exacerbation of the fundamental antinomy between Kultur and Zivilisation, with a stark predilection for Kultur. Even before his departure for Berlin, Cioran's texts draw, on the strictly cultural level, from a collection of values and assessments which are so many "spiritual" predispositions towards an effective politicization of his discourse.
That said, there is another easily observable phenomenon in these texts and which was, perhaps, more decisive still, that is to say: self-loathing. In the young Cioran, this takes on at least two forms: in the first instance, self-loathing as the representative of an organically deficient "small culture," as a Romanian; then self-loathing as an intellectual. Constantly associated with the notions of fecundity and effectiveness, the aspiration towards a regenerative "barbarism" is for Cioran the only way to escape this double condition, which he considers sterile and humiliating.
The encounter with Hitlerism in the autumn of 1933 would serve as a catalyst in his mind: henceforth, to withdraw to inner life would no longer be acceptable; one needed to act, and act quickly – that is to say, politically. If this conversion was brutal, it is in fact because it answered a vital need, the inability to bear any longer the pressure of a wounded pride, mortified by Destiny.
Cioran's frenzied enthusiasm was then proportional to the intensity of his despair. He no longer wanted to be lucid; he wanted to be alive – even if it meant, for that, renouncing everything, including his quality as a free, thinking man. He would bluntly write in Vremea:
Among all the values to which humanity has grown attached, none "wears out" as quickly as liberty. The feeling of inopportuneness becomes dramatic. Hence is born among intellectuals, in our time, a strange fury for submission, a need for blindness, delight in debasement. Nobody wants to be free anymore. And this is what is to be sought in the passion for the Right as much as for the Left.
Astounding statements, when one knows the outspokenness, the finesse, and the originality of the thinker which Cioran would become, a few years later, in the French language.
Notes
[1] [6] A Romanian newspaper, its name meaning Time.
[2] [7] A Romanian Jewish playwright, journalist, and novelist (1907-1945). He died in a traffic accident, not because of the persecution of European Jewry.
[3] [8] A Romanian playwright who, like Cioran, also lived in France and came to publish exclusively in the French language.
[4] [9] An essayist and literary historian who hailed from the same village as Cioran, Rășinari.